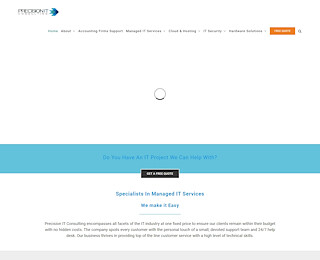 Modern laptop computer models come with manufacturer or brand warranty coverage that compensates users for essential computer repair services. Do-it-yourself repair attempts could end up causing irreparable damage to your PC or laptop computer.
After you've reviewed standardized computer and IT support strategies, you might consider contacting a computer repair company in Surrey. The majority of PC and laptop designs last for an approximate minimum of three to five years with routine maintenance, defragging, and drive cleaning.
Precision IT Consulting reviews broken or malfunctioning laptop and PC systems to determine if Surrey computer repair services are required. Surrey's computer repair services don't necessarily have to come with an expensive price tag if you turn to the right service provider.
Computer owners should become aware of the essential differences between computer support and computer repair services. Computer support service representatives provide troubleshooting advice and guidance without becoming engaged physically. Nevertheless, some computer support companies do provide in-home or office service calls.
Ultimate Collection of IT Services and Computer Repair in Surrey
Precision IT Consulting focuses on PC and laptop repairs in Surrey and provides IT support solutions. Computer repair and IT support services sound similar but share minimal standard components.
Computer repair services from our company cater to physical hardware or drive parts and replacements. Precision IT is a licensed and insured industrial technology service company that can repair fried hard drives or reconfigure support software applications. While many repair companies use sliding price scales, our agency strives for fixed-rate pricing capabilities.
Precision IT Consulting's attention to detail catches minor problems before they transform into complex repairs. Technology and computer software evolve rapidly at never before seen precedents, but our computer repair company in Surrey consistently stays one step ahead of the